Double Tide Pink Pale Ale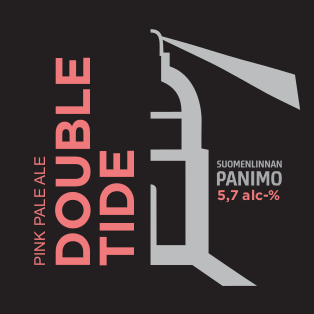 Double Tide Pink Pale Ale (5,7 % ABV) was seasoned with two juices: black currant and cherry. It's been double dry hopped. It's a fresh, enjoyable and resfreshing beer to cheer up a spring day.
American Pale Ales, as the name suggests, are all about American hop varieties. They are full of flavor and create citrusy and fruity aromas in beers. Even melon or floral notes can be detected. When hops are added after the first fermentation, which is referred to as dry hopping, the most fresh and pure aromas are captured and transferred into the final product for enjoying.
Black currant is a very familiar berry to Finnish people. It's full of vitamins, it's very dark and flavorfull. Together with cherry juice it even colors the foam head of a beer to a beautiful, delicate pink. Playing around with juices creates an interesting profile to beverages and, of course, colors it to a beautiful red, as opposed to the more traditional specimens of this beer style. Like a sunset at sea...
Double Tide is fresh like a spring day
Double Tide got it's name from a powerful natural phenomenon. A tide is created as a result of the gravity of Moon and the Sun and the movement of the Earth. Sometimes in the coastal area one gets to see a double tide: a high tide rises, then recedes and rises again until it reaches it's highest point. The same phenomon can be observed with low tide where the water level recedes, rises and recedes again.
In our Double Tide, a double dry hopping and two different juices create a complex world of aromas while the beer still remains a resfreshing and light beverage. Anyone enjoying the beer can feel strong berry flavor on their tongue while a bittering from the hops balances the overall experience.
On 20th April 2017, the first kegs leave to the following restaurants:
Also Bar Base will get it's own in some weeks!