Greetings from Hazy Isles!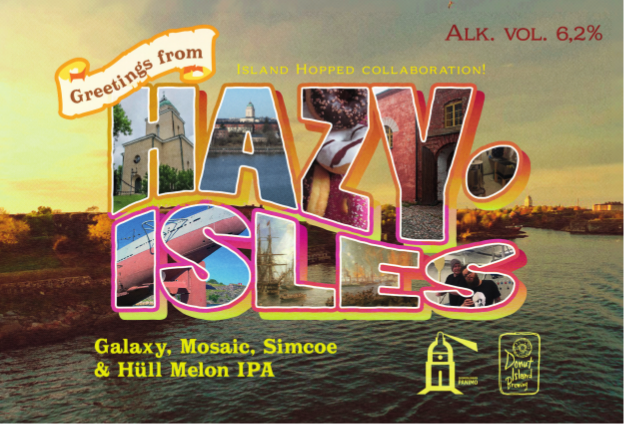 Greetings from Hazy Isles of Helsinki! Donut Island Brewing stopped by at Suomenlinna Brewery and the results are rather juicy.
Greetings from Hazy Isles (6,2 % ABV) represents an american approach to Indian Pale Ales. In the United States it seems that demand for strongly hopped beers is everlasting - and we are happy about that. As a result many young, interesting styles of beer have been developed and have found their way to our glasses. Great!
The newest hot thing seems to be a variant called New England IPA or North East IPA. These beers are juicy, tasty, and unfiltered - hazy. The drinks are easily approachable and their mouthfeel is very smooth.
They tend to be hopped with aromatic hops that bring different kinds of tropical aromas to the beers. The range of different notes is amazing and this style is really enjoyable specially during a summer like - like now.
Greetings from Hazy Isles - Donut Island & Suomenlinna
The summer up here in the north is a busy, busy season for a brewer. Our thoughts wonder to holiday moods, tropical destinations, to the beach...
Strongly feeling these holiday vibes we started planning a beer. Greetings from Hazy Isles is Donut Island Brewing's and Suomenlinna island brewery's summer favorite.
Hazy Isles is going to be published on Thursday 29.6.2017 at 15:00 at Big Beers Small Breweries festival in Lahti!
You can also travel to following destinations for a pint:
Villi Wäinö
Brewdog Helsinki
Oluthuone Kaisla
Oluravintola Pikkulintu
Pssst: the list might get even longer, so follow this page.