Tin Soldier's Apple Cider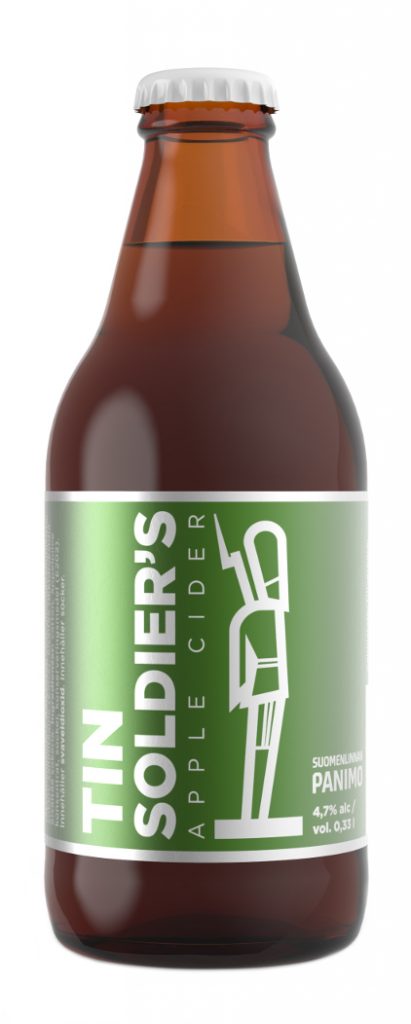 Tin Soldier's Apple Cider (4.7 % ABV) is a dry and fresh apple cider made fully from apple juice.
The tradition of cidermaking is a thousand years old and a highly appreciated craft. Ciders made from real apple juice are fine and nuanced. Their roots are in Europe: in the Mediterranian region, Spain and France. The making of ciders has been a hobby not only for the people, but also for civilized, stylish gentlemen. This drink fermented from apples is a very fine bubbly.
Tin Soldier's Apple cider, a refreshment for the epicure
On the island of Suomenlinna, ciders have been enjoyed since the establishment of the fortress. You can imagine apple cider being a refreshing delight for the officers and their wives in the midst of their busy days at the fortress.
Tin Soldier's Apple Cider is a dry and fresh apple cider. It's been made using fresh juice pressed from apples. Our mild cider is left to mature in peace until it's ready to enjoy.
You'll find our apple cider in Finnish grocery stores. It's a charming and versatile companion for food, and goes well with different recipes.
A dry apple cider is also a perfect, lighter substitute for sparkling wine for example at brunch. You can use it just like wine – try adding a tablespoon of mashed peaches to your drink and you can raise a glass with a lovely version of the classic Bellini!