Tin Soldier's Black Apple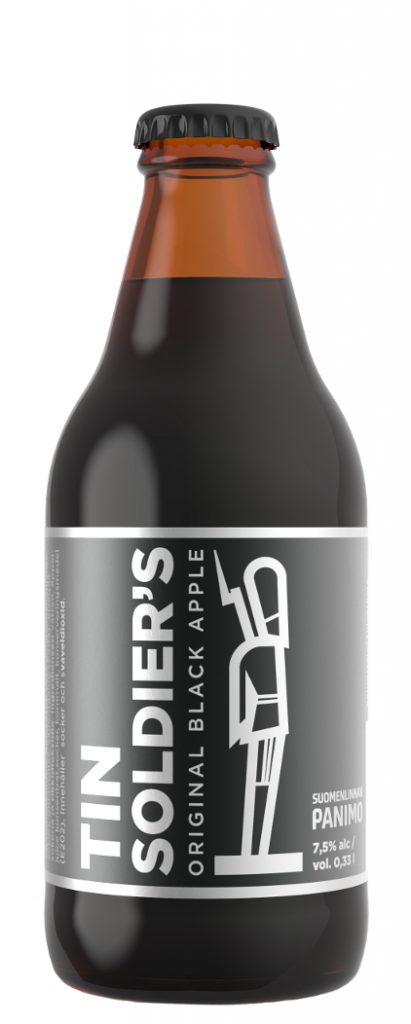 Tin Soldier's Black Apple (7.5 % ABV) is a dry apple cider that tastes like what it's been done of: round, fruity apples. It has a very special characteristic. It's black.
The juice pressed from cider apples is the main ingredient of genuine apple ciders. They are made by fermenting the juice and producing these high quality products is an appreciated craft. There are different types of ciders: unfiltered, cloudy ciders and ones that are crystal clear, like sparkling wine. Sweet and dry. From the taste and aroma of a real apple cider you can usually find a clue of where and how it's been made. At least when you get to enjoy a Finnish, genuine black cider.
Tin Soldier's Black Apple is a specialty from the fortress island
At the end of the summer, cold winters creeps very early on Suomenlinna. However, the brewers at Suomenlinna wouldn't let this get them down. So using real apple juice they created a black apple cider made fresh, crisp and unique by the frosty bite of Finnish winter.
People travel long distances to taste this specialty.
Tin Soldier's Black Apple has been made using traditional cider making methods, without adding any aroma additives. It's characteristics are a round, soft taste full of apple, that doesn't get too soft, but sparkles on your tongue with poise.
Dark chocolate is a food pair that is guaranteed to work well with our cider, but don't hesitate to try it out with lamb or pungent stews!
You can find Black Apple in the Finnish Alko in addition to restaurants.