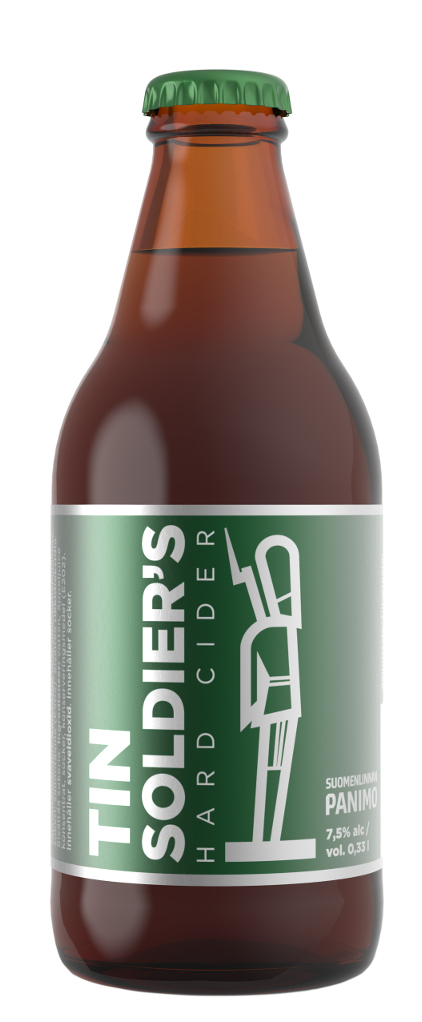 Tin Soldier's Hard Cider (7,5 % ABV) is a dry, fresh apple cider. It tastes like crisp and fruity green apples. Just as a cider should.
The history of hard cider has been a roller coaster. Like beer, it's been a safer choice than water to drink. It has even been used as a currency when wages were paid to farm workers. Unfortunately, prohibition did cause more trouble for orchards than breweries that could change their production to non-alcoholic drinks more easily.
After the prohibition ended, orchards and cider houses also had a harder time to convert back to their original line of products than breweries. The apple variety used for cider production has different requirements for soil and environment than the more widely known dessert apple.
Now, the appreciation for hand crafted apple ciders is finally reaching the level where it should be.
Tin Soldier's Hard Cider is perfect for a lover of high quality apple cider
In Suomenlinna, too, ciders have been a part of the everyday goings. High ranking officers and their ladies in particular can be imagined to have a sip of clear, dry, strong cider for refreshment during the day.
Tin Soldier's Hard Cider's green apple-like taste with a hint of tartness are balanced with light fruitiness. Hard Cider is a cider for fans both dry and medium dry ciders, because the pungent aromas of the apple juice makes the whole experience especially tasty - but not sweet.
Tin Soldier's Hard Cider is a high quality drink for enjoying on its own. Don't hesitate to pair it foods, though – this spritzy, tart apple cider balances salty cheeses and tapas courses very well.
Hard Cider is available in high quality restaurants. Follow us for news on it's availability!